Second Workshop on Immigrant Languages in America
24 participants from Iceland, Norway, Sweden and the United States attended a workshop on immigrant languages ​​in the America at Fefor Høifjellshotell September 21. - 24.
There were talks about the languages ​​Norwegian, Swedish, Icelandic, Frisian and Pennsylvania Dutch in the United States, together with Icelandic in Canada and Swedish in Brazil. Many linguistic aspects of the languages were discussed: phonological, morphological, syntactic, semantic and lexicographical. In addition, participants were given insight into the immigrant's story, and themes such as language acquisition and language attrition were discussed.
The workshop was the second in a series about immigrant languages ​​in the United States, the first was held at the University of Wisconsin Madison in 2010. Both workshops demonstrated that this is an exciting area of ​​research where much work still remains.
In addition to the professional program, a hike to Feforkampen was arranged. Moreover, the participants visited Sygard Grytting - an old farm and a hotel -  owned by the same family during the past 700 years.
Organisers: Janne Bondi Johannessen, University of Oslo and Joe Salmons, University of Wisconsin-Madison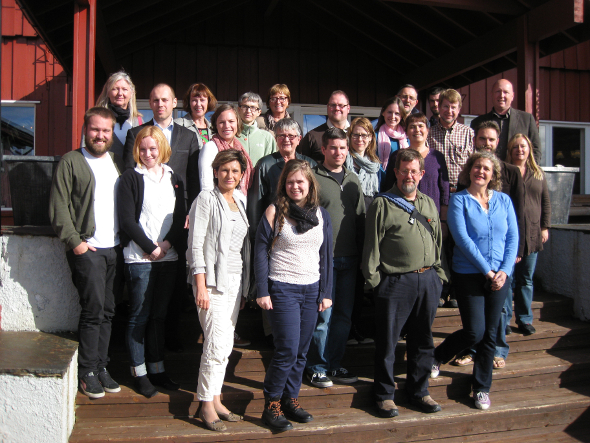 Workshop participants outside Fefor Høifjellshotell.