Fieldwork in America
Since 2010, researchers from universities and colleges in Norway and USA, led by Professor Janne Bondi Johannessen, have done fieldwork in USA (the West and the Midwest) and Canada.

Fieldwork March 2010, Midwest
In the autumn of 2009 advertisements were put in three Norwegian American magazines: The Norseman, The Norwegian American Weekly, and Viking Magazine. Norwegian-speaking Americans who satisfied certain criteria were asked to contact the University of Oslo. The criteria were: They had to be descendants of immigrants who came to America before 1920, and have learned Norwegian in their family. There were 40 replies. Many of these respondents spoke Norwegian as their only language before they started school. They had in common that they were relatively old.
In March 2010, Janne Bondi Johannessen and Signe Laake went to America on a two-week trip through Illinois, Wisconsin, Minnesota, South Dakota and North Dakota to meet some Norwegian American informants and make video recordings.
Read Janne and Signe's blog from the journey:
Fieldwork September 2010, Midwest
In September 2010, Workshop on Immigrant Language in America was arranged in University of Wisconsin, Madison. Before the workshop, more fieldwork was done in the Midwest. Janne Bondi Johannessen and several of the participants of the workshop visited Norwegian American informants, for example in Decorah and Westby.
Read the blog from the fieldwork (The link is to the first part. Scroll up to find the next parts).
Fieldwork June 2011, Midwest
In June 2011 Janne Bondi Johannessen and Arnstein Hjelde went back to the United States. Both delivered lectures at the Anniversary conference of the Norwegian American Historical Association, at Luther College, Decorah, Iowa. Afterwards, they traveled around in Iowa, Wisconsin and Minnesota and made several recordings with old friends and new Norwegian-speaking Americans.
Fieldwork June 2012, West og Midwest
In June 2012 Arnstein Hjelde and Janne Bondi Johannessen went on a new recording tour to the United States. The goal was to find Norwegian-speaking descendants in the Western States, and to fill in some of the core areas in the Midwest. In two weeks they drove over 3000 miles and made recordings in Washington, Montana and North Dakota. This time, informants were more varied in terms of background: Some were descendants of recent immigrants, others were second language learners while some were descendants of the early immigrants.
Fieldwork October 2012, Midwest
The Third Workshop on Immigrant Languages ​​in America was held in late September at Penn State University in Pennsylvania. After the workshop Janne Bondi Johannessen, Arnstein Hjelde and Eirik Olsen went on to the Midwest. They spent a week on the road in the core areas of Minnesota and Wisconsin and met both old and new Norwegian informants. Several students from the University of Wisconsin‒Madison and Ida Larsson from Stockholm University also participated in some of the fieldwork.
Fieldwork September 2013, Canada
In September 2013 Janne Bondi Johannessen and Arnstein Hjelde travelled to Canada for the first time. They spent a week in the province of Saskatchewan, where they met several pleasant Norwegian Canadians, many of them spoke Norwegian as a heritage language. During their stay they made recordings in Saskatoon, North Battleford, Outlook and Archerwill.
Fieldwork October 2014, Midwest
After the workshop 5th Annual Workshop on Immigrant Languages in the Americas in Los Angeles in October, Arnstein Hjelde and Janne Bondi Johannessen traveled to the Midwest again on fieldwork. This time they came to Ulen, MN, Flom, MN, Coon Rapids, MN, Flom, MN, Westby, WI, and St.Paul, MN where they met a nice mixture of informants that had become old friends, and new informants (new friends).
For the first time, the researchers did not just record interviews and conversations, but also tried out various "games" or tests for specific linguistic phenomena, which both fieldworkers and Norwegian Americans found to be great fun.

Fieldwork May and June 2015, Midwest
The 10th International Symposium on Bilingualism was held at Rutgers University in New Jersey on 20–24 May. After the conference Janne Bondi Johannessen with students Linn Iren Sjånes Rødvand and Eirik Tengesdal went on fieldwork. From late May to early June they met informants from Sacred Heart, MN, Sunburg, MN, Spring Grove, MN, Harmony, MN, Westby, WI and Coon Valley, WI. They met both old and new informants and recorded interviews and conversations as well as games or tests.
Fieldwork in October and November 2016, Midwest
After the Seventh Annual Workshop on Immigrant Languages in the Americas
University of Georgia, Athens, some of us continued to the Midwest, and met old friends, and some new. This time we were Arnstein Hjelde and Janne Bondi Johannessen, but also the young generation: the PhD-students Yvonne van Baal (who had learnt Norwegian over the previous couple of months to be able to carry out the fieldwork) and Alexander Lykke, as well as postdoc Kari Kinn. We went to our dear Westby, WI, Coon Valley, WI, Sunburg, MN, Ulen, MN, and Fargo, ND, as well as the new places (for us) Iola, MN, and Hendricks, MN. It was nice to meet both old friends and new informants. We had a rich variety of language games and also did recordings.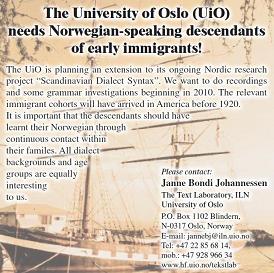 Informant advertisement.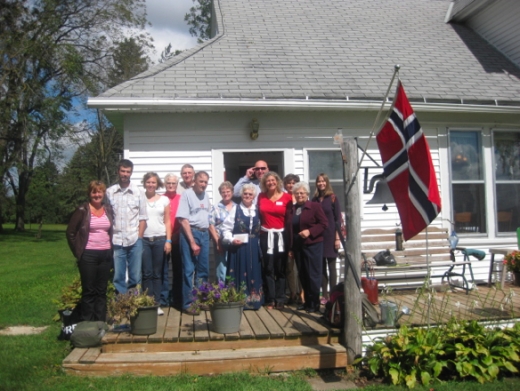 Researchers and informants at Norris Farm, September 2010. Foto: Jill S.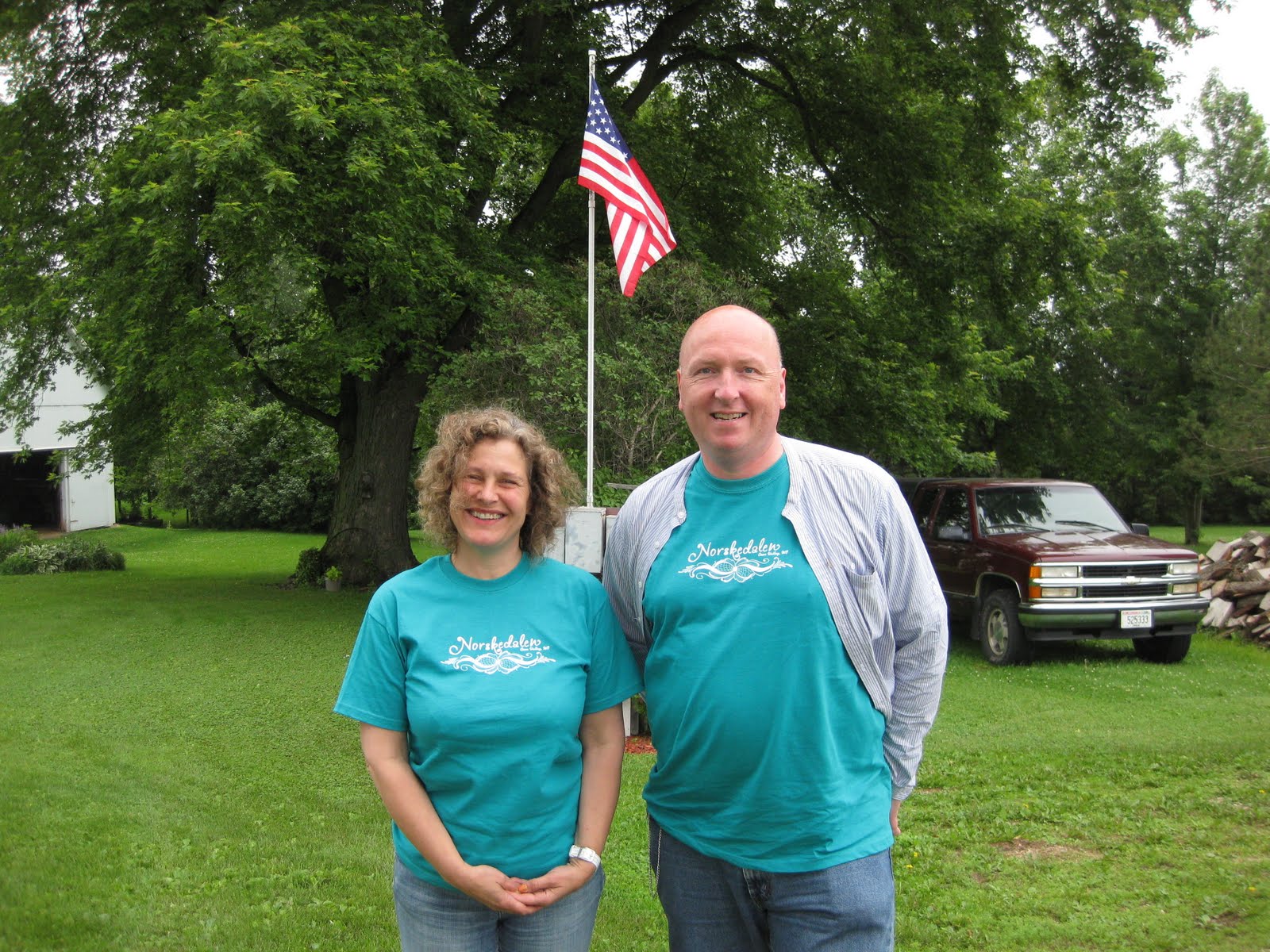 Janne and Arnstein with t-shirts from Norskedalen. June 2011.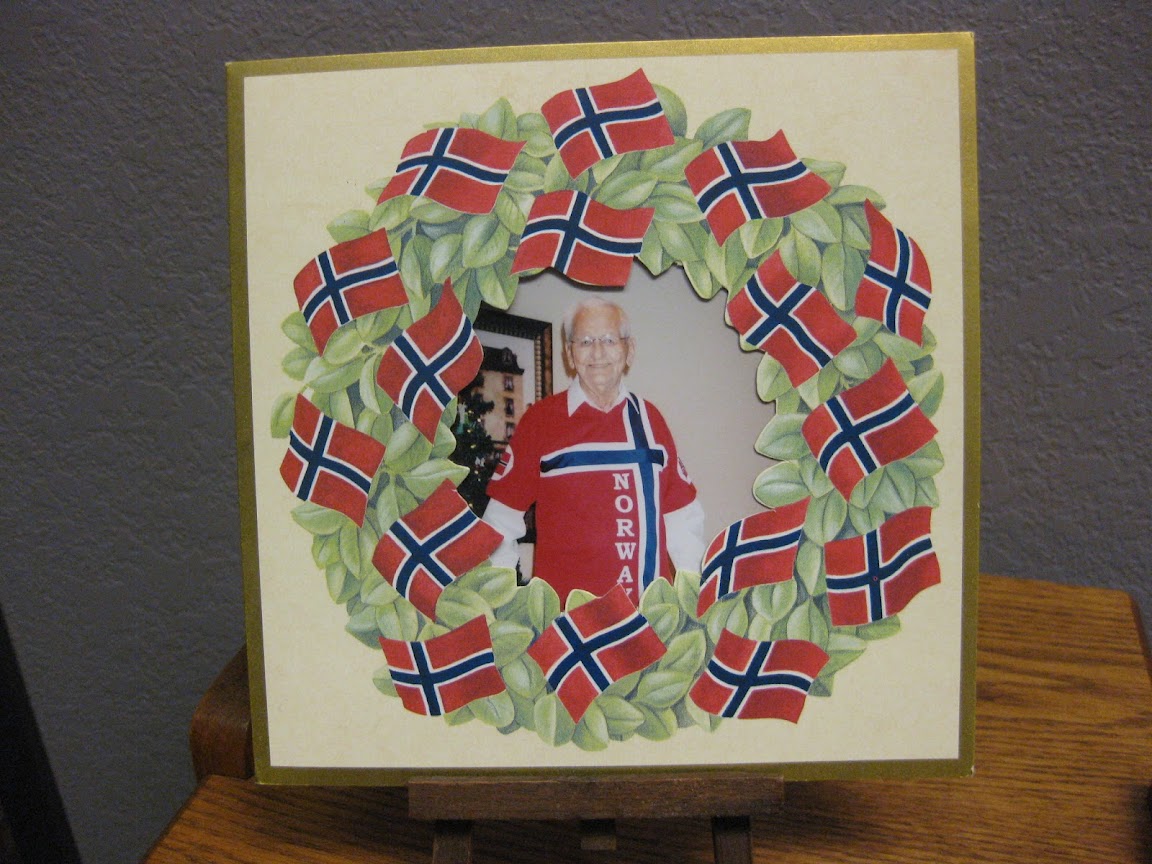 Norwegian American informants are proud of their Norwegian roots.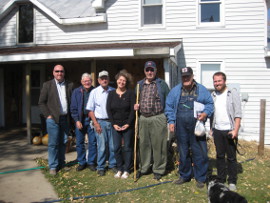 Norwegian American informants from Blair, WI with Anstein Hjelde, Janne Bondi Johannessen and Erik Olsen. Oktober 2012.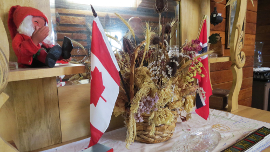 Canadian fieldwork in 2013.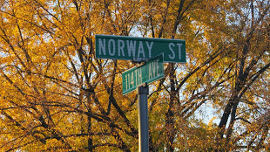 Norwegian tracks in the Midwest.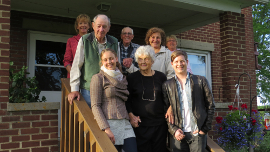 Informant visit outside Coon Valley, 2015.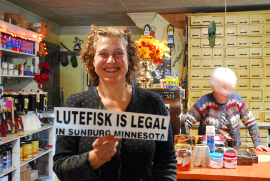 The hardware-store in Sunburg, MN, 2016.
Contact:
tekstlab-post@iln.uio.no

---